Worktribe


Connect 2023
13th-14th June 2023
SS Great Britain, Bristol
Registration is now open!
We look forward to welcoming you to Worktribe Connect 2023.
Delegates are restricted to 2 per institution. The team will be in contact to confirm attendees if more than 2 registrations are made.
What is it about?
Worktribe Connect is our annual user conference, attracting representatives from institutions across the UK. It is an opportunity to discover the latest product developments, share ideas with peers at other institutions and learn how to further transform administration at your institution with Worktribe.
How will the event be structured?
This will be our first time hosting an in-person Connect event since 2019. Day 1 will take place on Tuesday 13th June (09:30 – 17:00). Following the first day of sessions, Worktribe invites all delegates to join us aboard SSGB for some drinks, nibbles and networking (17:00 – 19:00). We will wrap up the Connect with more great speakers on Day 2, Wednesday 14th June (09:00 -13:00). 
Who should attend?
Anyone who is closely involved in the implementation or management of Worktribe products at their institution should attend Worktribe Connect.
Previous attendees have included those at Director / Assistant Director / Head / Manager level, working in the following areas: Research Management, REF and Research Excellence, Data and Information Management, Systems Management and Administration, Grant Management and Research Finances, Research Operations, Project Management, Library Services, Contracts and IP, Academic Quality and Standards and Teaching and Learning Administration.
As this will the first in-person Connect since 2019, each institution will restricted to 2 delegates, however there is opportunity to request extra delegates, if space becomes available. 
What will be on the agenda?
There will be a variety of sessions over the two days with plenty of opportunity to discuss topics with your peers from other institutions.
The agenda will include:
Current sector wide themes and trends
Presentations and round-tables on platform and product focused topics
Worktribe business updates
Full details coming soon.
How to find us
The conference centre can be found on the site of the Brunel's SS Great Britain, Great Wester Dockyard, Gas Ferry Road, Bristol, BS1 6TY
You can find a wealth of information on how to get there by foot, bicycle, train, ferry, bus or road on the SS Great Britain website here.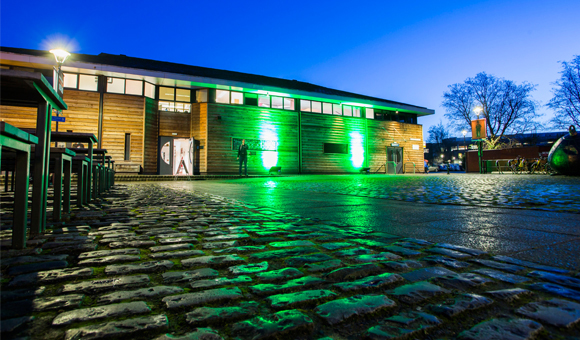 As you enter the site, you will see the building (shown above) on the left. Delegate badges can be collected in the foyer of this building, accessed from the courtyard.
Where to stay
The IBIS Hotel, just 15 min walk from SSGB are offering all Connect 23 delegates 15% discount on public rates (from £138). To book simply email h5547-dm@accor.com and use the code "Worktribe Conference". The discount will be available up to May 31st, 2023. 
Other hotel options…
Marriott – BS1 5TA
10 minute walk to venue – approx £232
The Bristol – BS1 4QF
10 minute walk to venue – approx £200
Radisson Blu – BS1 4BY
15 minute walk to venue – approx £202
Mercure Brigstow – BS1 4SP
20 Minute walk to venue – approx £163
Please note: All prices are for a double room for one night (13th June) including breakfast and within 0.5 miles of the SS Great Britain Venue. Prices based on Booking.com search on 20/02/23.
Explore Brunel's SS Great Britain
"Discover the ship that changed the world"
Brunel's SS Great Britain is one of the iconic sights of Bristol, perched in Bristol's Great Western Dockyard near where it was built over 170 years ago.
First launched in 1843, the iron steamship is said to be the "Great-grandmother of all modern ships" due to its combination of size, power and innovative technology. It enjoyed nearly 90 years of service thanks to Brunel's engineering skills.
Worktribe Connect attendees will have the opportunity to explore the ship within breaks during both days of the event.