Using rich data from Worktribe to inform strategic decision making at University College London.
We caught up with Mark Hopwood (Assistant Director, Research Operations) for a deep dive into how UCL has harnessed data from Worktribe to provide a powerful Management Information (MI) dashboard that informs better decision making across the institution.
In this interview, we discuss UCL's drive for "excellent systems", how teams across the institution are taking advantage of the wealth of data available and, critically, how MI has helped the institution respond to the challenges of a global pandemic…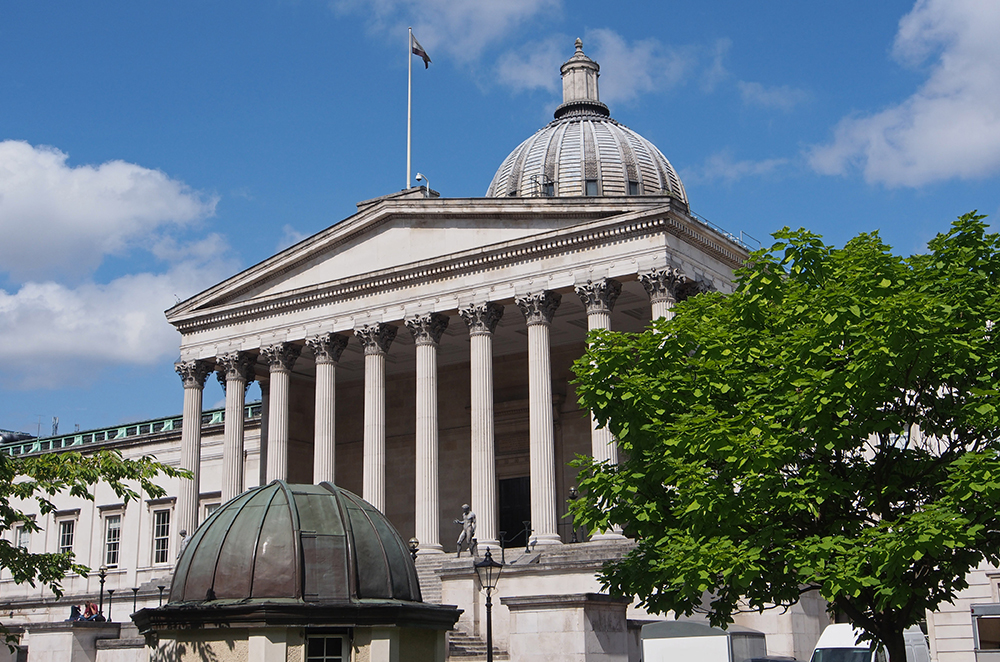 How did your journey with Worktribe start?
Mark Hopwood (Assistant Director, Research Operations): UCL is known as London's Global University and as part of our UCL 2034 strategy, we have key enablers to help us fulfil our mission. One of those key enablers is excellent systems and an important objective stemming from this is to improve management information and support informed decision making.
Like many institutions, UCL used to use a system called pFACT to cost research projects and our research dataset was limited. It was time to find systems that would support our mission and enable more informed decision making, and the first system to support this was Worktribe.
Worktribe offered a number of benefits to UCL including improved bid collaboration and transparency, clear workflows and approval routes, and a full audit trail of user actions.
We realised that the research information that could be gathered in Worktribe was incredibly rich.
We began a phased implementation of Worktribe in 2016, starting with Worktribe Pre-Award in the summer of 2016, followed by Worktribe Post-Award in autumn, and then Worktribe Contracts.
We decided not to bring across any historical data, as we felt that we would be starting with a limited dataset in comparison to what we would be able to gather in Worktribe.
How do you use Worktribe at UCL?
MH: All Universities use Worktribe in a slightly different way. That's one of the advantages of Worktribe, you can configure it to fit your own business processes.
Worktribe is accessible to all staff at UCL who work in a research department or in a research-intensive role. The system allows all staff to create projects and PIs to lead on the project creation with their department manager. We find that some PIs are incredibly keen to create their own budgets and associated projects, and others would prefer their department managers to take the lead.
Worktribe is open across UCL to allow collaborative research between research departments and facilities from an early stage.
We have various approval routes at UCL, and the main objective of those is to give research departments and the Research Services Pre-award team the ability to approve the costing and projects. Depending on the financial structure of the project, we also have escalation routes.
Amendments to projects are initiated by the academic departments and then sent through to the Research Services team to take forward. This is where Worktribe is integrated with our finance system, Oracle Financials.
Can you tell us a bit more about how you've integrated Worktribe with your systems at UCL?
MH: One of the main objectives of having excellent systems at UCL is to ensure all of our systems are fully integrated.
Although this is still a work in progress, Worktribe is already integrated with our Oracle HR system, bringing our HR data through to Worktribe on a nightly basis; with Oracle Financials, allowing data to travel both ways; and with our data warehouse, which was implemented around the same time as Worktribe.
The aim of the data warehouse was to store all UCL's data sets and allow for rich reporting. Worktribe was lucky enough to be the first dataset to go into the data warehouse.
How are you using data from Worktribe Research in your reporting?
MH: Having access to reporting in the data warehouse, as well as from the saved searches or directly from the Worktribe extract, gives our team in Research Services and other areas of UCL the opportunity to create multiple types of Management Information.
Our reporting covers three areas: Operational, Strategic and System Management. Operational MI allows us to continue to monitor and improve our research application pipeline and manage research projects. Strategic reporting allows us to make informed decision making at an organisational level, or at school, faculty or departmental levels. And System Management reporting allows our team to ensure that the data in Worktribe is as robust and rich as possible, and that the system is being used as we expect, as well as being able to provide background to departments on their specific data.
UCL loads Worktribe BI extracts nightly into our institutional data warehouse and we use a system called Tableau to visualise strategic management information. This is facilitated by our Data and Insight team, who create data on behalf of all business areas to ensure consistency across the organisation with regard to reporting.
Who can access the reporting on research projects, and how?
MH: The reporting for Worktribe is available to all senior stakeholders including Heads of Department, Managers, Deans, Director of Ops etc. via a number of dashboards in Tableau, giving them sight of UCL's research portfolio.
The dashboards were created with a customer-driven focus to answer clear business questions. However, anyone who has worked in this area is probably well aware that if you ask 11 people what their clear business questions are you will get at least 11 different answers and 22 different subsequent questions. We found that we needed to define exactly what UCL needed to monitor on the research pipeline and that would then help inform decisions.
What do you think are the advantages of this type of reporting, and how does it help inform decision-making?
MH: One of the advantages of this reporting is that there is a single source of data for research applications. Prior to the implementation of Worktribe and the dashboards, there was very much a culture of slicing and dicing data and possibly coming up with different takes on the same dataset.
This really provides a single source of truth, so that everyone is looking at the same criteria when we are measuring the research application pipeline.
To give you an idea of the kind of reports that we are producing with Worktribe data, at a high level: There are obviously a large number of different reports that you can drill into further, but we have a focus on what is the price, cost, recovery and overhead contribution of submitted research applications. We can then really make management decisions on the type of applications we are submitting, the type of applications that need extra financial support.
We look at success rates, depending on the type of research application. We also provide a profile of submitted applications to departments, so they can really monitor their pipeline to see what is coming. For example, if they aren't submitting enough applications so that in three or five years time they won't have enough awards.
We also use a lot of the risk assessment data from Worktribe to inform different decisions around infrastructure needs.
Another aspect is around PI/Co-I recovery reporting, which is to make sure we are not recovering more than 100% from public funds and making sure the PIs and Co-Is are not overcommitting themselves in general.
Of course, all reports can be filtered in multiple ways.
How else does the Research Services team support other business areas with data insights from Worktribe?
MH: As well as the dashboard, Research Services also provides reporting for various business areas using the Worktribe data.
Prior to Worktribe, we didn't have this rich level of data, so now it really allows us to provide information that supports other areas of UCL's business needs.
For example, the Global Engagement Office are interested in which overseas funders we have and where our partner interactions are, so they can use this data to drive their own business decisions. We can see where our research ties are strong, and where they aren't.
Our Innovation Team use the data to manage industry partnerships, and obviously, with the "in-kind" contribution, the data for the HESA and future KEF returns is available.
For the Vice Provost's Office, data from Worktribe informs strategic decisions around what type of applications we should and should not be applying for and where we should focus our aims.
In terms of risk assessments, we collate the financial commitments of the institution, in real cash or time so that our school finance teams are always using this reporting to understand what that commitment could be if these applications were successful.
Our Information Systems Division also use data from Worktribe to inform their planning and obviously academic departments are using all the data to ensure their local strategies are in line with their objectives.
We understand UCL's reporting capabilities came in very useful at the beginning of the Covid-19 pandemic. Can you tell us more about this?
MH: One of the advantages of having the data in the data warehouse is that we can create custom reports quickly. In the first few weeks of the Covid-19 pandemic when universities were starting to feel the impact, we created some KPIs across the organisation to ensure that we continue to perform as a business or that it is flagged very early where there could be potential challenges.
There was an increased reliance on MI to support our Covid-19 response and Worktribe data provided an important aspect of this reporting.
What would have usually been monthly reports were made available weekly, to really see in which areas or sectors our applications were holding strong or dropping off, to help us develop mitigation strategies to prevent potential loss in future income.
Like any organisation, we were well aware of the financial constraints that were imminent or could be coming down the line, so there was an increased focus on using the Worktribe data for recovery and contribution targets within the organisation.
And what about future plans for UCL's reporting capabilities?
MH: We're part of a Worktribe reporting Special Interest Group (SIG) which allows us to collaborate with other institutions to provide guidance to Worktribe on our reporting requirements. We're always looking for ways to expand our data such as more timestamps on specific workflows and other identifiers to enable improved reporting, and the Worktribe team has already made a number of improvements as a result of the Reporting SIG.
On a broader scale, the data warehouse allows us to interrogate different data sets across the institution including Worktribe, which is something we are still working on. We can see the benefits of using HR data, finance data and research data to get an even richer source of information, so that's what we are ultimately aiming for.
We're also thinking about whether to enable more self-serve bespoke reporting in the future. At the moment, dashboard reports in Tableau are clearly defined for users to view. I guess the advantage of retaining clearly defined reports is that everyone knows they are looking at the same data, so this is something that we'll need to consider if we decide to move towards self-serve reporting.
If you'd like to find out more about the products mentioned in this interview, please contact Jon Hackney.