University of York changes its research grants management universe
Moving research grants management to the cloud has allowed the University of York to:
Optimise research data flows and processes by integrating Worktribe with existing systems.
Introduce efficiencies and significantly reduce the quantity of manual processes, freeing up administrators' time to spend on value added activities.
Improve data integrity and visibility of research applications, project finances and management information.
Support an increasingly complex and changing portfolio of research across the university.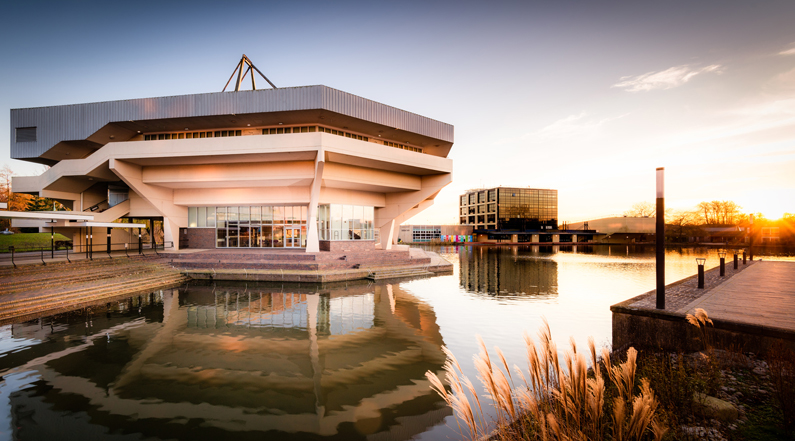 The situation
The University of York is a research-intensive institution with an annual research income of over £70m and 30 academic departments and research centres.
With a new research strategy coming into action in 2015 and the additional motivation of the University's legacy research costing tool moving into "end of life", it was the perfect timing for the University of York to pursue a more integrated research management system.
Project Sygma was born. A number of stakeholder workshops allowed the project team to identify key requirements including a robust fEC costing tool, configurable workflows and approvals, post-award budget management features  and most importantly, the ability to integrate with their existing systems including Agresso (the University's finance system).
The solution
Worktribe won the tender to provide the University of York with a new platform that would "change their research grants management universe".
"We went out to find the best system and we chose Worktribe. It is being used by a number of other Russell Group universities and will provide York with a platform for future growth."

– David Hudson, Research Grants and Contracts Team Leader, University of York
The University of York selected Worktribe's Pre-Award and Post-Award products, and the implementation and testing phase commenced in 2016.
Critical to the University of York's research operations was the ability to integrate their new system with a number of existing core systems including Agresso (finance) ResourceLink (human resources).
Worktribe's RESTful API meant that the project team at the University of York were able to take full control of how Worktribe shares data with their existing systems, creating an impressive portfolio of integrations.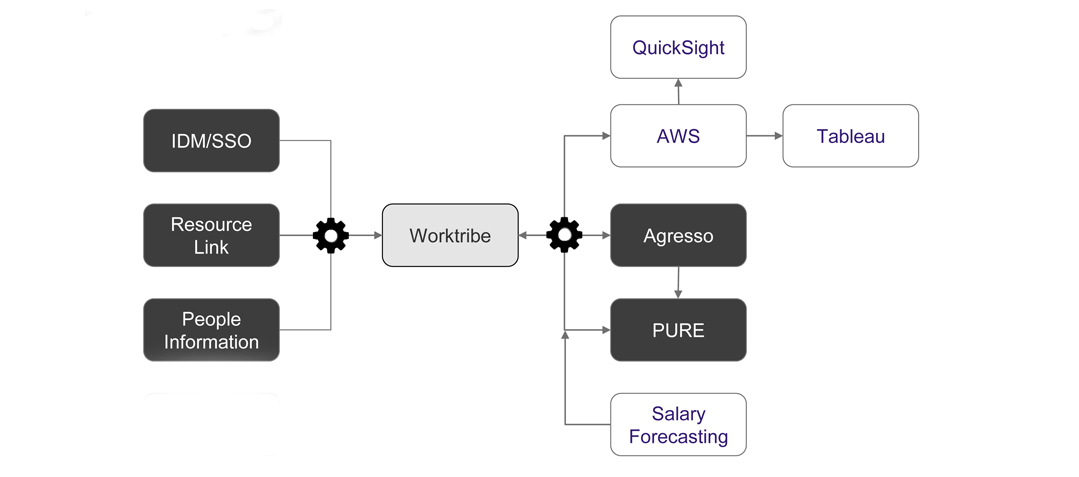 The University of York's integration portfolio in November 2018 (Current integrations – dark grey, planned integrations – white.)
"Our developers like this integration as it is based on real-time events that are pushed to us, and if we don't respond to them there and then, then they are put in a queue for us to deal with later."
"There were over 120,000 integration events in the first year that we were live – so each one of those is an instance where someone would have had to respond to something that had happened in the research system and copy it in somewhere. It could have been a few fields or an entire project. We've already saved an awful lot of manual effort." – David Barrett, Research Systems Manager, University of York.
The University of York has also developed its own 'Integration Manager' (shown below), with a portal on their website that allows administrators to view the status of integrations and detailed logs, turn them on and off, run feeds and manage queues.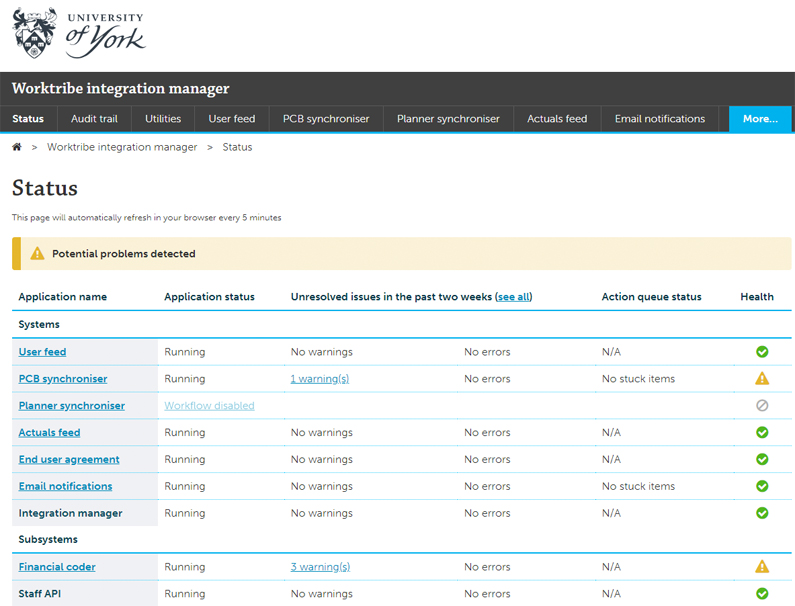 University of York's Integration Manager
The transformation
Worktribe's Pre-Award and Post-Award products are now live at the University of York, transforming how the institution manages research through its lifecycle and supporting an increasingly complex and changing portfolio of research across the university.
"Worktribe is more than just a costing tool. The system touches on all points of the research grant lifecycle, from bid development, workflow and approval for submitting your application through to post-award financial management should your grant be successful."
"It allows PIs, Department-based Research Administrators and Research Grants & Contracts staff to collaborate on a single research project record and take advantage of a well integrated system" – David Barrett, Research Systems Manager, University of York
Worktribe usage at the University of York:
~1500 live and submitted projects migrated (Aug 2018)
~2500 new projects created (Aug 2017 – Nov 2018)
~850 users
Worktribe has brought some obvious efficiencies such as less manual entry and double entry of data, improvement of data integrity, elimination of paper based approval routes, saving time and freeing up research administrators to add more value elsewhere.
"One of the processes that has been impacted the most is the "submission of research" process – previously, that could take up to 5 weeks to go from the department to the research office but now can take less than 5 minutes, and the project reference is created in our finance system straight away."

– David Barrett, Research Systems Manager, University of York
A single source of truth
Implementing Worktribe has required the University of York to analyse and re-shape its research data management processes and flows – something that is already providing a foundation for better data integrity.
"For every single item of data, we looked at all the possibilities and we built what we call our 'data dictionary' – which has given us a very comprehensive understanding of our research data and how this is used in our other business systems."
We've got better data integrity, we've identified a source of truth – that really helps people who are constructing reports to understand where our data is coming from." – David Barrett, Research Systems Manager, University of York.
Future plans
The University of York are in the process of adding more integrations to their impressive portfolio, including a trial project to connect Worktribe's data extract to Amazon AWS and create MI reports using Amazon QuickSight.
The university also intends to extend their use of the Worktribe's costing tool to include the costing and approval non-research related activities such as consultancy.
"Worktribe underpins our research grant operations and the system has greatly improved many aspects of the research grant life cycle at York"

– David Hudson, Research Grants and Contracts Team Leader, University of York
Extracts from the University of York's post-implementation Benefits Review:
"Benefit: increased flexibility and a platform for future changes and research growth. Worktribe has enhanced the University's ability to manage all aspects of the research grants lifecycle process in a better way."
"Benefit: improved customer experience – the new system is web-based and is more intuitive and user-friendly."
"Benefit: less chasing of "paperwork" between Departments and central Research Grants as information is easier to find."
Image credit: Central Hall at dusk, University of York, Alex Holland