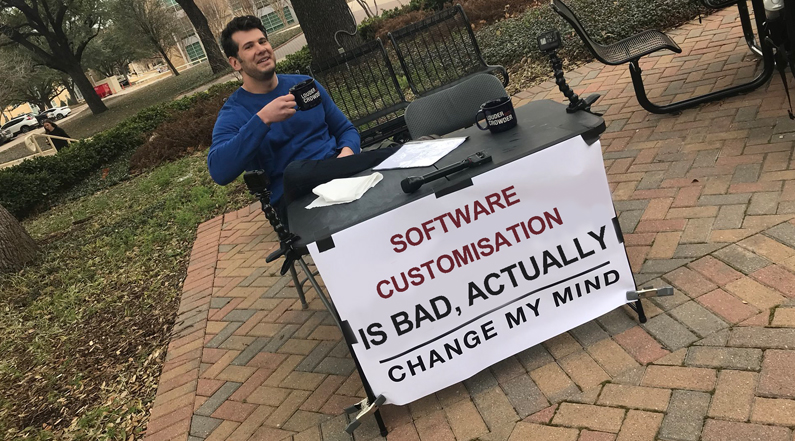 It's the small decisions that can be time consuming and take over our lives if we aren't careful. Every time I go to the supermarket, my purchasing decisions are complicated by a number of logical and emotional factors – how good does it taste? Do I really need it? How much is it? How much bloody packaging is there? Is it organic / free range? How hungry am I right now?
And with the average supermarket stocking approximately 20,000 lines, with up to 50 brands for each product – it can be a little overwhelming. I often find myself buying things I don't really need, or buying the same items as last time because it is just quicker and easier.
Psychologists are adamant that more choice isn't always a good thing (check out this Ted talk for more on this) and is stressing us all out.
Too many options often leads to delayed decision making, followed by higher expectations and consequently lower satisfaction. And then there's things like FOMO (fear of missing out) and self-blame. How did I ever think those marmite flavour cashews were a good idea?
Maybe you are now wondering, how is this related to HE administration?
When it comes to research or curriculum management software, many providers offer fully-customised software with all the choices that an institution could possibly want.  And why wouldn't they? It makes perfect sense, when many universities consider their processes to be unique – requiring customised software that exactly fits their requirements – and are willing to pay for it.
However, this isn't how we work. Our approach is strictly "configuration not customisation", which means that you can make certain choices about how our software works, but only within the framework of the system.
"We focus on refining what we do, not trying to do everything." 
A few reasons to choose configuration over customisation…
So why do we (and our clients) think this is the right approach? And why wouldn't you choose to "have it all" with fully-customised software?
1. You don't need to worry about the details
Too many choices can be paralysing. And with many different stakeholders from different areas of the business involved in a project, coming up with a definitive list of exact requirements for a customised solution can be a lengthy and difficult process. And the more options there are, the easier it is to regret anything at all that is disappointing about the options you chose at the time.
Our software is based on best-practice, because we believe institutions are facing the same challenges across the sector, regardless of slight differences in their processes and the way they do things.
We work closely with universities from across the UK, and combine their experiences and aspirations with our own expertise, alongside insights gained from our panel of carefully selected experts. Our platform offers only the relevant options, via configurations. This allows us to be agile, rapidly building and rolling out new features to our clients to keep them ahead of the latest challenges and requirements. And this is why we're confident that Worktribe is the "ultimate platform for research and curriculum management".
2. You'll be live quicker
Customisation takes time. There's the time taken internally to understand exactly what stakeholders within an institution want, as mentioned above. And then there's the time (and cost) of customising the software to suit these exact needs.
By choosing "out of the box" software, institutions can be up and running quicker on a configurable, functional platform.
We constantly hear horror stories of other system implementations being delivered months or even years late (and over budget), if at all. We wish we could always blame our competitors for this, but often there can be delays within institutions themselves due to a lack of clear boundaries or a precise enough idea of what "finished" looks like. This just doesn't happen for us. Our system is ready to use from day one, with best practice workflows distilled from years of working with HE institutions.
3. You won't be limited to your own expectations
Do you really need your software to be customised to be a perfect fit with your existing processes, or would you consider transforming the way you do things based on the shared experiences of your institutional peers? Many of our clients find that moving to Worktribe gives them the opportunity to reconsider and improve their processes and data management in ways that they otherwise wouldn't have. Time and time again, our customers comment on the significant gains in efficiency they've made and the value they see in being part of the community that helps shape sector-wide best practice.
4. You'll always be using the latest software
When it comes to keeping your software up to date, customisation can be a much more costly and complicated route. Custom code has a tendency to break when software is upgraded, so an institution might need additional development time and incur additional costs to ensure they can upgrade successfully. Otherwise, they risk getting left behind on an out-of-date, unsupported version of their software.
Choosing configuration over customisation means that you'll always be using the latest version of a software, benefiting from new features and patches alongside other institutions. The worktribe platform is constantly evolving to address the present and future challenges that HE teams face.
It would be easy (and possibly more lucrative) as a software developer to always say "yes" to our clients when they ask for customisations, bespoke modules and "can you just" touches.
But it just doesn't fit with the way we work, and we believe strongly that it doesn't fit with the way you work either.
We could customise everything, allow institutions "just enough rope" and then have a small army of consultants we charge out at eye-watering day rates, helping you understand what exactly it is that got built five years ago and how on earth you might get data out of it or make changes to it.
But then we wouldn't be a nimble software company any more, able to build new products and features quickly, when new requirements come up (hello REF!). We wouldn't be able to offer smooth upgrades to whole new versions that take seconds or minutes and are included in the price. We wouldn't be offering you a software platform that encourages best-practice, synthesised from a wide range of institutional experiences.
And, honestly, we just wouldn't enjoy it so much.
"We deliver systems on time, on budget, that work for everyone – and we want everyone who's already signed up to keep saying 'yep, it's true, they really do!'"
If you'd like to chat more about our approach, please get in touch.