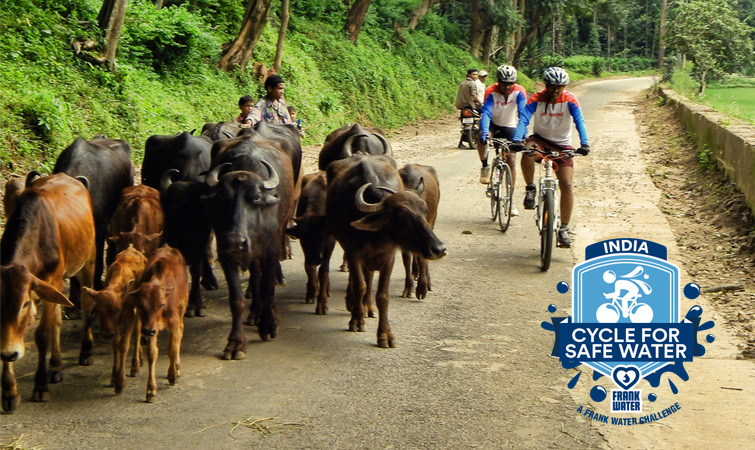 Worktribe's very own James Brook is set to depart for a lycra-clad adventure this October in aid of FRANK Water.
663 million people in the world do not have access to safe water, and 2.5 billion lack adequate sanitation. In India and Nepal, there are approximately 80 million people without access to safe water – and in Nepal, this equates to 1 in 10 people.
So while there may be some people in the UK worrying about what will happen to their lawn if we have a hose pipe ban, 140,000 children in India die every year due to diarrhoea caused by unsafe water.
That's why we support FRANK Water as a Cloudburst partner. Since 2005, this Bristol-based charity has provided clean drinking water and sanitation to 386,500 people in India and Nepal. Founded by James' friend Kate Alcott, the charity has made it its mission to improve access to safe water, sanitation and hygiene in India and Nepal. The focus is on long-lasting solutions and this is achieved by working with local NGOs on the ground.
The challenge
In October, James will set off on a 400km pedal-powered journey across challenging terrain in India, with a total of six full days of cycling. The challenge has been organised by FRANK Water, in partnership with independent charity BeyondMe and volunteers and support from Expedia, Inc and India travel specialists Authentica.
"As my first trip to India, I'm sure it will be an eye-opening experience. Even though I've done long distance rides before, the terrain and heat will definitely be a challenge.

I'm proud to be supporting FRANK Water and raising awareness of the work they do. Having clean drinking water is something we take for granted here, but for people in India and Nepal it literally is the difference between life and death."

– James
James has set himself a target to raise £1000 for FRANK Water, and with only a few months to go – any donations are appreciated.
Donations can be made via James' Just Giving page: